Li-SOCl2+Super Capacitor
Current Location: Home - Products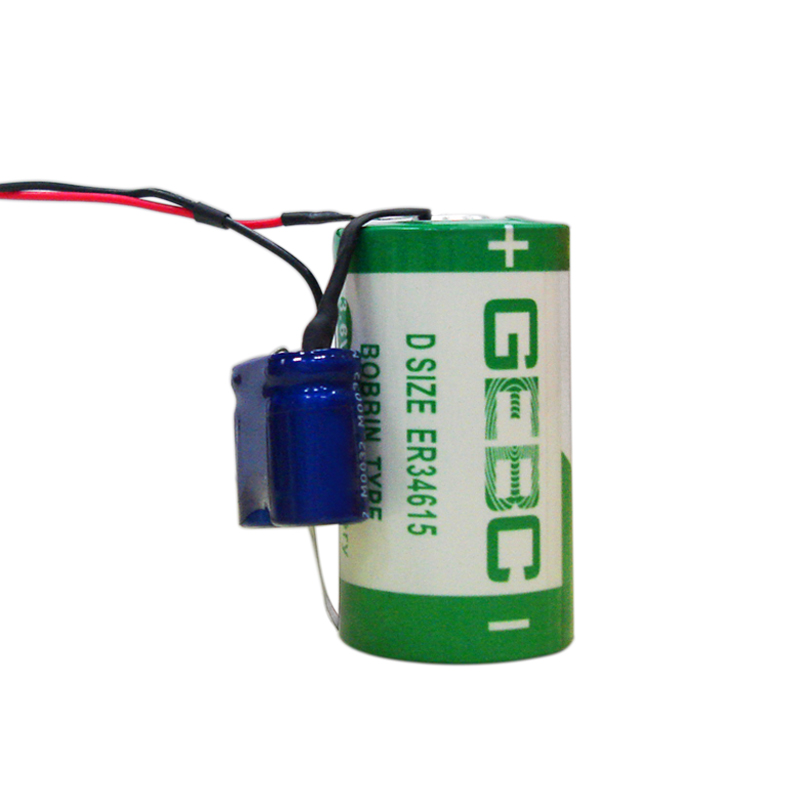 Li-SOCl2 Battery +Super Capacitor
Li-SOCl2 Battery + super capacitor are used for high pulse current applications. Use the advantage of Li-SOCl2 Battery with its high working voltage and capacity as well as the advantage of Super Capacitor with its high power capability. Li-SOCl2 battery will charge the super capacitor to be used for high pulse currents (Generally 1 -3A) without severe voltage drop.


Key Features:
1.High energy density and stable working voltage;
2.Safe, low self-discharge rate
3.Wide operating temperature range, long time storage and intermittent pulse charging.

Applications:
Meter Reading, GPS Tracking, Data Communication, Auto Security and etc.
ER34615 discharge curve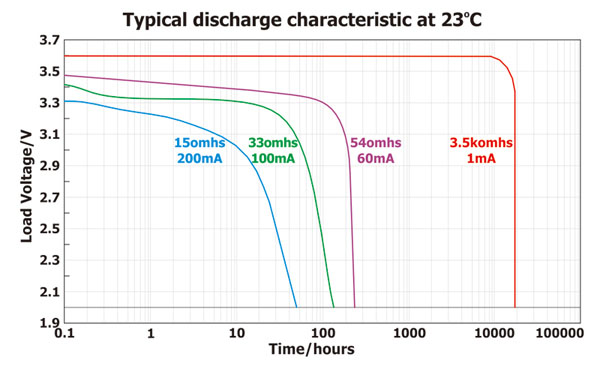 The voltage of Li-SOCl2 battery is high,the rated voltage is 3.6V, and the working voltage is stable,more than 90% of the capacity in the high voltage platform output.


At room temperature, medium current density discharge, the discharge curve is very flat, Li-SOCl2 battery can work in the range
of -40 ~ +85 ℃.The battery capacity at -40 ℃ is about 50% of normal temperature capacity, showing a very good high and low temperature performance.
ER34615-1S2P + Super Capacitor SP-5R5-Z405UY pulse discharge curve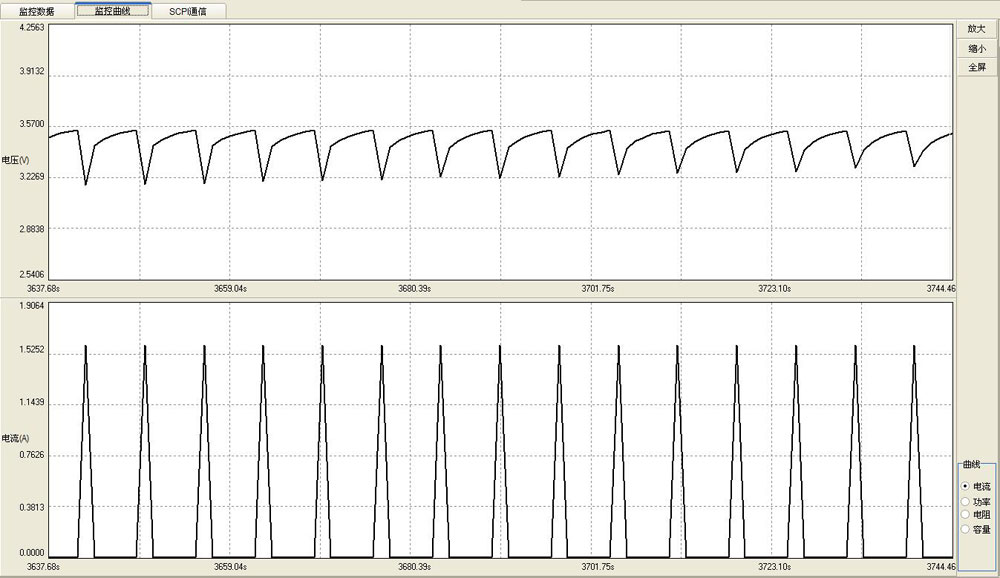 Discharge characteristics:
1. ER34615-1S2P + super capacitor SP-5R5-Z405UY in 1.6A 800mS / 6000mS discharge conditions, the minimum load voltage is up
to 3.176V.
2. Amplify the pulse frequency, Li-SOCl2 Bobbin cell + super capacitor gains higher minimum load voltage and better performance.

Common super capacitor model
SP J Sereies ( -40oC ~ +70oC )
Type

Nominal Capacitance
(F)

Nominal voltage
(V)

ESR
(mΩ)

Dimension
ФD×L(mm)

Temp

2

2.5

120

10×20

-40℃-70℃

4.7

2.5

60

12.5×21

-40℃-70℃

10

2.5

35

13×34

-40℃-70℃

20

2.5

20

16×34

-40℃-70℃

50

2.5

30

18×34

-40℃-70℃

100

2.5

15

22×45

-40℃-70℃
SE J Series ( -25oC ~ +70oC )
Type

Nominal Capacitance
(F)

Nominal voltage
(V)

ESR
(mΩ)

Dimension
ФD×L(mm)

Temp

1

2.5

600

8×13

-25℃-70℃

2

2.5

250

10×20

-25℃-70℃

4.7

2.5

110

12.5×21

-25℃-70℃
HP LL Series ( -25oC ~ +70oC )
Type

Nominal Capacitance
(F)

Nominal voltage
(V)

ESR
(mΩ)

Dimension
ФD×L(mm)

Temp

1

2.7

600

8×13

-25℃-70℃

2

2.7

250

10×20

-25℃-70℃

4.7

2.7

110

12.5×21

-25℃-70℃

8

2.7

100

12.5×21

-25℃-70℃

10

2.7

60

12.5×34

-25℃-70℃

20

2.7

50

16×34

-25℃-70℃

50

2.7

60

18×34

-25℃-70℃

100

2.7

25

22×45

-25℃-70℃

200

2.7

10

35×62

-25℃-70℃

400

2.7

10

35×62

-25℃-70℃
HP LR Series ( -40oC ~ +70oC )
Type

Nominal Capacitance
(F)

Nominal voltage
(V)

ESR
(mΩ)

Dimension
ФD×L(mm)

Temp

1

2.7

300

8×13

-40℃-70℃

8

2.7

50

12.5×21

-40℃-70℃

10

2.7

25

12.5×34

-40℃-70℃

20

2.7

20

16×34

-40℃-70℃

50

2.7

25

18×34

-40℃-70℃
SP Z Series ( -40oC ~ +70oC )
Type

Nominal Capacitance
(F)

Nominal voltage
(V)

ESR
(Ω)

Dimension
W×L×H(mm)

Temp

0.1

5.5

600

6×11×14

-40℃-70℃

0.22

5.5

600

7×13×14

-40℃-70℃

0.47

5.5

600

9×17×16

-40℃-70℃

1

5.5

240

10×21×22

-40℃-70℃

4

5.5

100

13×26×23

-40℃-70℃
SE Z Series ( -25oC ~ +70oC )
Type

Nominal Capacitance
( F)

Nominal voltage
(V)

ESR
(Ω)

Dimension
W×L×H(mm)

Temp

0.1

5.5

1400

6×11×14

-25℃-70℃

0.22

5.5

1200

7×13×14

-25℃-70℃

0.47

5.5

1200

9×17×16

-25℃-70℃

1

5.5

500

10×21×22

-25℃-70℃

4

5.5

200

13×26×23

-25℃-70℃
* Above product list is part of our products, for more products please contact us